– Tabata Timer –
Ever wonder why you start working out on a Monday with conviction and lose your motivation by Wednesday? 🙁 It's because motivation is an emotion. It comes and goes like the wind. You can't wait for the wind to blow if you want to get to your destination. You have to make up your mind, break out the paddles and row that thing! Self-Discipline is a learned behavior. It is one of the hardest mental traits to achieve.
The Tabata timer is a good tool to train your Self-Discipline. Download from your AppStore or Playstore. Add the Tabata Timer to your Health & Fitness group on your homescreen for easy access. If you don't have a Health & Fitness group on your homescreen, CREATE one! 🙂 Seeing it daily will remind you of your goals.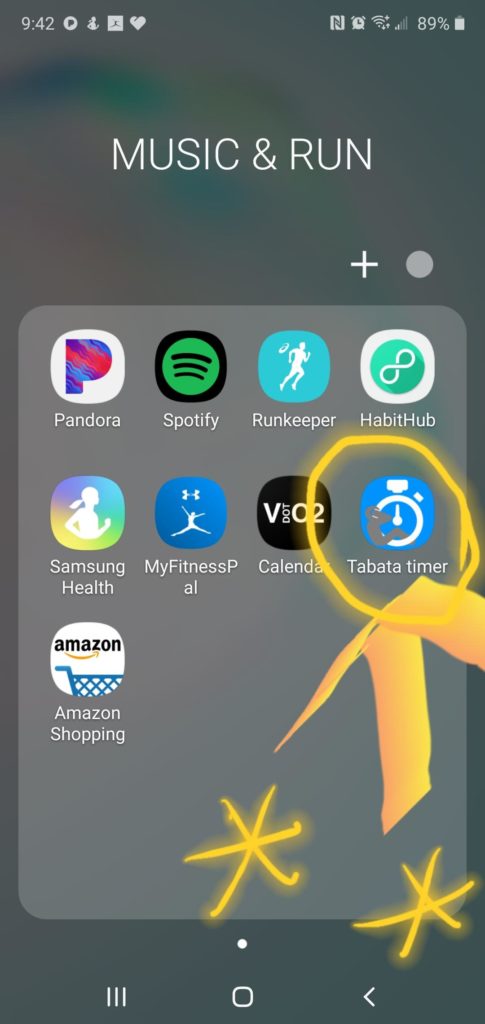 If you've never used a Tabata Timer before, try one round for fun. Although Tabata was designed for high intensity interval training, you don't have to do a HIIT circuit if you're still baby-steppin' it. You just have to MOVE! In my experience, the number one reason people don't exercise is because they over-complicate it. Just move….it's really that simple.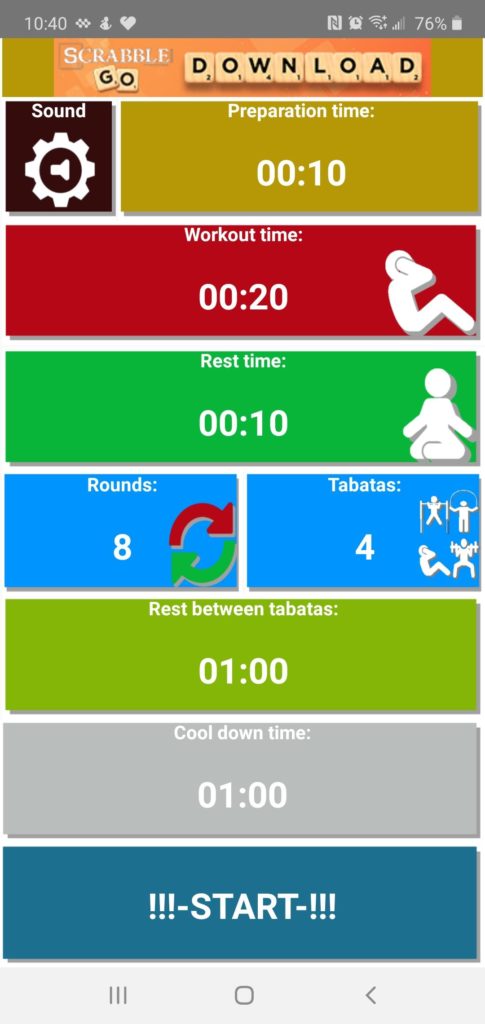 Prep Time – Take a deep breathe, lifting arms overhead to fill the top of your lungs, pause at the top, exhale slowly, pause at the bottom, then repeat.
Workout Time – SQUATS (for example) 20 secs. GO!
Rest Time – Rest for 10 secs. taking a deep breath or stretch.
Rounds – This timer is set for 8 rounds. It will take you 4 min. to complete 8 rounds.
Rest Between Tabatas – This timer is set for a 1 min. rest once you've completed your 1st 8 rounds.
Tabatas – This timer is set for 4 Tabatas; i.e. 4 different exercises, 8 rounds each; OR 4 circuits of 8 different exercises if you want to mix it up and get creative for a full body workout.
Changing the settings in this app is easy breezy with the touch screen. Just touch the colored section that you want to change. You can even change the sound of the tones.
Ask a Coach/Trainer to create a personal workout for you or you can make one up on your own. Either way, I believe the Tabata Timer is the easiest tool to train your body to MOVE!